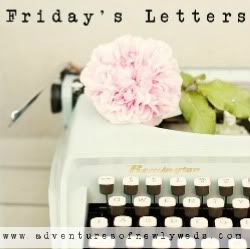 Dear Hubby,
You know when I need Me time and you know when I need You time. But best of all, you always know when I need Everything time. Thank you for just the time.

Dear 1LW,
I know what I'm supposed to do with you, but I'm not ready yet. See letter to Future.
Dear Me, You're doing a great job. You have to remember that, k?
Dear Future,
I know I'm not helping the situation by keeping stagnant and not making a lot of changes, but a girl (okay, woman) needs a break every once in a while. Be patient with me. You'll always be there. Duh! You're the future for a reason right?
Dear Brooke,
You are so wonderful to me and you made my day with the gifty. When someone thinks of me and does something as sweet as you did, it makes my heart soar leaps and bounds. Your generosity and care and selflessness are going to make you a wonderful wife and mommy one day.
Dear Bloggy BFF,
I miss you from the subsol. I preath for you and you pidgletts every day. I can't wait for our dreams to come true. How's the tunnel coming? :D
Dear Little Love,
I love that you put words together - like instead of saying "What If", you say "Whaff" or "people" is "peepole". It makes me smile. And the way you and your sister are together makes me so proud. Oh! And good job in knowing all your ABCs, my big lil boy:)
Dear Lovebug,
You are the most wonderfully caring daughter. You always know when Mommy just needs the right amount of love. And you're a great big sister. I wish you were mine sometimes:)