Have you heard about this new vision from
Amanda
?
She's calling us to inspire others with our writing.
This is something I strive to do.
This is something I used to do.
Do you remember that about me?
I have been unable to write these days, but when I saw
this post
last week I knew it was time.
It was time to get all inspiration nation around here!
I have so much going on - like, I have to schedule breathing sometimes! But I am going to do this...
I am going to inspire you with my words...like I used to.
I will write the words you need to hear and figure out how to get the time to do everything...
I'm going to stop saying "How?" and not think about it.
I'm going to just say "Do!"
I've missed you...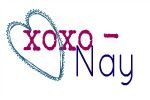 ps:
Have you met Carrie?
She won an ad spot on this here bloggy:)
Go give her some lovin', k?